The Vincennes Zoo, a natural escape from Paris
Publish on Tuesday, 10 May 2016 in Visit Paris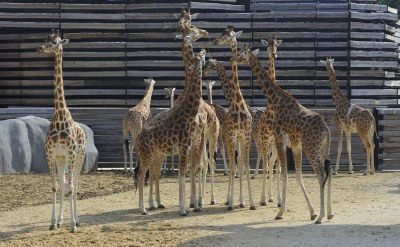 Following its reopening in spring 2014 after extensive renovations, the Parc Zoologique de Paris at Vincennes has received considerable acclaim and is well deserving of a visit during your stay in Paris at the Hotel Viator. Discover the zoo's remarkable biozones, in which the natural habitats of the animals are carefully and convincingly recreated.
An iconic Parisian attraction reborn
Opened in 1934 in the Bois de Vincennes, the Vincennes Zoo enjoyed great popularity but was becoming outdated and the decision was made to close for major work in 2008. Re-opened two years ago, this botanical and animal park is managed by the National Museum of Natural History and is now one of finest zoos in France. The renovation work took almost 3 years, but the result could not be more satisfying, with an infrastructure designed to blend into the landscape, and a focus on conservation and raising public awareness of the natural world. The enclosures, known as biozones, replicate the natural ecosystems of the wildlife living in them, and the health and wellbeing of over 180 species of mammals, reptiles, amphibians, birds, fish and invertebrates is the overriding priority. Situated in the midst of the 12th arrondissement of Paris, the Vincennes Zoo is a wonderful place to relax and learn about the wonders of biodiversity.
The biozones of the Vincennes Zoo
The Vincennes Zoo has 5 biozones, each designed to recreate the conditions of a particular natural area with as much authenticity as possible. Thus we find areas simulating the landscapes of Patagonia, the Sahel-Sudan, Madagascar, Europe and Amazon-Guyana, in which visitors can see the animals behaving as they would do in the wild. From the rocky plains of Patagonia and the African grassland, to the Amazon jungle, the European conifer forest and Guyana and Madagascar's tropical scenery, visitors are immersed in a world apart.
The Vincennes Zoo is a wonderful attraction brimming with discovery and entertainment suitable for the whole family. You can spend a happy afternoon only minutes away from the hotel, amidst the green fringes of Paris.
Picture credits: Rog01 : https://www.flickr.com/photos/maitreyoda/14040914106
« Back to articles