Valentine's Day is coming and Parisian chocolatiers are at work!
Publish on Wednesday, 1 February 2017 in Events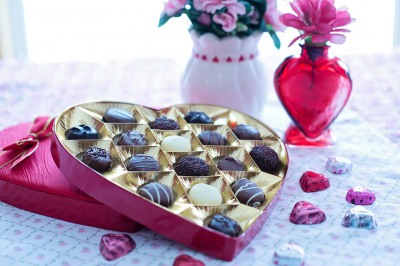 Give your loved one a sweet and tempting Valentine gift created by the finest Parisian chocolatiers and you will melt their heart with your thoughtfulness. As Valentine's Day approaches irresistible creations are popping up in the windows of shops throughout the capital, so the Hotel Viator suggests you indulge your eyes, nose and taste buds and express your love in the most delicious of ways. Here are our recommendations....

The Favart offered by Lenôtre
Under its mysterious bright red dome of almond paste, the flamboyant Favart hides a fondant heart of vanilla Bourbon de Madagascar and fresh raspberries on a crispy raspberry feuilletine. In the name of his delicious creation the pastry chef pays tribute to Charles Favart, the 18th century playwright and director of the famous Opéra Comique theatre, which has recently reopened following a major refurbishment that began in July 2015.


Ladurée offers a declaration of love
This year the internationally famous luxury baker and confectioner Ladurée offers you aphrodisiac creations made from ginger. Forget the lingerie and perfume, these delicacies placed under the sign of Cupid are all you need to raise the temperature! Heart-shaped macaroons, a Juliet dessert with fresh fruit and a jasmine mousse, as well as other heart-shaped treats... all presented in the most romantic of ways!

The Sweet Valentine created by Kayser
Eric Kayser suggests that you create a surprise after finishing your candlelit meal with his tantalising dessert appropriately called Sweet Valentine. This sumptuous creation in the shape of a heart decorated with a Cupid and his bow offers a wealth of seductive gourmet flavours, mixing a compote of wild strawberries with a poppy cream on a Breton biscuit base and a vanilla financier cake.
For vegan lovers, the Chocolove!
When you visit the establishment of the famed pastry chef Sébastien Gaudard you will leave with a vegan gluten-free dessert made without refined sugar that will seduce all lovers of 100% animal product-free food. The Chocolove is an organic and healthy creation made from avocado, raw chocolate, almonds, coconut flakes, coconut oil, cashew nuts, coconut milk, maca, Peruvian carob, cinnamon, dates, vanilla, salt and... a lot of love!
« Back to articles