See Paris while cruising along the Seine
Publish on Friday, 10 August 2018 in Visit Paris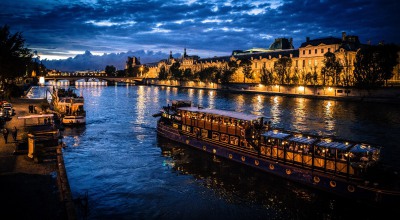 To discover Paris without treading the hot summer asphalt, opt for a cruise on the Seine! The famous bateaux mouches excursion boats will take you on the internationally-renowned river, where you'll get a fantastic view of the most beautiful monuments of Paris. Enjoy this incomparable experience with your loved ones during your stay at the Hotel Viator!
Cruise on the Seine; the most beautiful monuments of Paris from the water
During a cruise on the Seine, you will have the chance to get up close to the most sublime and emblematic monuments and buildings of the capital. The Louvre, the Place de la Concorde, Saint-Michel, the Pont de l'Alma, the Ile Saint Louis, Notre-Dame Cathedral, the Pont des Arts and more glide by your amazed gaze as you head along the waterway on a bateau mouche. The architectural spectacle is stunning and will stay in your memory for a long time, whether you choose a day cruise under the sun or a cruise by night amidst the lights of the city.
Cruise on the Seine; a boat trip for all occasions
A ride on a bateau mouche is an essential Parisian experience. With the one you love it is so romantic to be amidst the beauty of Paris. If you're with your family, the kids will be thrilled just to be on a boat. With friends or solo, you can learn fascinating facts about the sights you see, courtesy of a knowledgeable guide.
Book your room at the Hotel Viator
Located in the heart of Paris, in the Gare de Lyon district, between the banks of the Seine and the Marais, the Hotel Viator is your favourite accommodation in Paris. Its three stars guarantee unparalleled comfort, while its Parisian charm will set the tone for your stay.
« Back to articles