The biggest clay court tennis event takes place in Paris
Publish on Sunday, 10 April 2016 in Events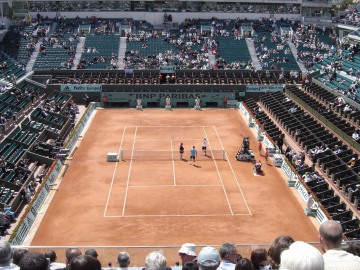 One of the most anticipated sporting events of the year takes place from May 22nd to June 5th, 2016 in Paris: the French Open Tennis Championship at Roland Garros! Once again, the world's best players will vie for the honour of winning this Grand Slam contest. Enjoy a stay at the Hotel Viator and be there for this clash of titans.
A full and exciting schedule
The eyes of the sporting world will be on the Stade Roland Garros, Porte d'Auteuil, Paris, in late May and early June for an event that is both the second Grand Slam tournament of the year and the climax of the clay court season.
Although the finals of the men's and women's singles are the most eagerly awaited matches of the French Open, there's plenty to be enjoyed in the build-up to these contests. This includes the qualifiers held from May 16th to 20th , the men's and women's doubles and mixed doubles matches, the Perrier Legends Trophy (from May 31st to June 5th), the Roland Garros Kid's Day (May 21st) and the juniors tournaments. The grand finals will be played on June 4th and 5th, 2016.
Book your tickets...
For this edition of the French Open, all who wish to attend the various games will need to book their tickets online at the official website of the event. No tickets will be sold at the gates of the stadium. The standard public tickets have been available online since February 23rd.
Crédit photo : Nawal
« Back to articles