The flower and bird market on the Ile de la Cité
Publish on Thursday, 10 August 2017 in Visit Paris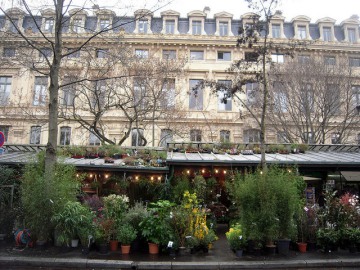 If you're looking for somewhere unusual to visit in Paris, you must definitely check out the flower and bird market that takes place in the Place Louis Lépine on the Ile de la Cité! A little corner of paradise in the 4th arrondissement, in the heart of the capital... Whatever the weather, a stroll here will be well worth your while.
A pleasant stroll through the heart of Old Paris
The flower and bird market at the exit of the Cité Metro station has been at that location since the beginning of the 19th century and has seen generations of enthusiastic amateur and professional gardeners pass along its aisles. Known today as the Queen Elizabeth II flower market, this picturesque place has retained its charm and authenticity. An abundance of colours, scents, chirping and sweet birdsong will regale your eyes and ears!
For plant lovers
Here you will find a very wide selection of indoor and outdoor plants, from simple geraniums to hydrangeas, petunias, dahlias, fig trees, yucca, orchids, cacti and many others. Do you like unusual plants? Some stallholders will offer you carnivorous plants along with excellent advice in regard to their care. Is your balcony or window sill narrow? Why not plant some aromatic species such as tarragon, parsley, or chervil, which will add a touch of flavour freshness to your dishes?
Every Sunday a concert of birdsong
Every Sunday, the flower market is complemented by a bird market that is as chirpy as you would expect. If you find a little feathered companion to take home, you'll be able to ensure they'll have comfortable accommodation as there is also a great selection of cages, aviaries, nest boxes and feeders to choose from, not to mention the food to satisfy those hungry little beaks. While exploring this picturesque market, you'll also discover some rodents, fish, and decorative objects as unusual as they are varied.
The flower and bird market promises you a pleasant walk in the heart of Old Paris amidst the scents of nature...
Crédit photo : Patrick Janicek
« Back to articles