The Winter Circus in Paris; a magical show
Publish on Sunday, 10 December 2017 in Entertainment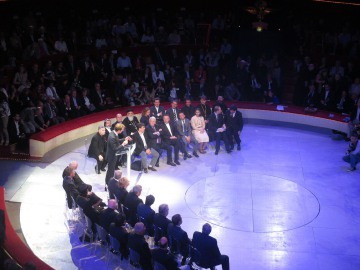 The end of the year presents a special opportunity to be with those we love and spend some quality time together. And to make those precious moments even more unique and memorable, what could be better than a shared night of magic and astonishment, thrills and laughter? With the Cirque d'Hiver (Winter Circus) show in Paris, you're certain to enjoy an enchanted evening's entertainment that will appeal to all ages!

Cirque d'Hiver Bouglione; 170 years of history
Legendary, unique and talented, the Bouglione family has given the circus a measure of nobility, with shows as magical as they are funny. During its 170 years of existence, this incredible dynasty has pushed forward the evolution of the circus so that today's shows combine tradition and modernity perfectly.

The show Exploit at the Cirque d'Hiver in Paris
With this latest creation, the Cirque d'Hiver offers a wealth of excitement, relaxation and laughter, brought to you by wonderful performers and astonishingly well-trained animals! Flamboyant and elegant in equal measure, this magical show will leave you little time to catch your breath – you'll be too busy laughing at the many antics of the brilliant American clown, Rob Torres!

Hotel Viator; superior accommodation in Paris
Conveniently located a few steps from the Gare de Lyon and the Place de la Bastille, about ten minutes from the Marais district and the banks of the Seine, the Hotel Viator will be your haven of peace during your trip to Paris to discover the delights of the Cirque d'Hiver. This typically Parisian hotel is decorated with contemporary taste to create a resolutely elegant yet welcoming atmosphere. Book your well-appointed room right now and enjoy three-star comfort and the attention of a friendly and available team!
« Back to articles