Creative and delicious Christmas desserts in Paris
Publish on Friday, 10 November 2017 in Flavors and Gastronomy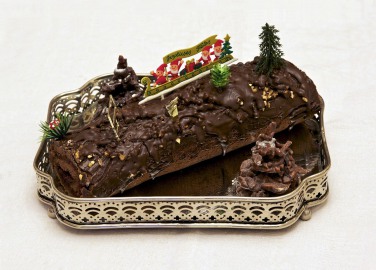 Everywhere you go, Paris is recognised as the fashion capital of the world, the City of Light, but also as the epicentre of gastronomy, and particularly its sweet side. So, it should be no surprise that, during the run-up to the festive season, the capital's starred chefs compete to create bûches de Noël (Yule logs) that are as beautiful as they are delicious. Come and discover them, you won't be able to resist!

Ladurée, Le Nôtre and La Maison du Chocolat: the classics
These pâtisseries are famous for the tempting treats they create.
Every year, Ladurée, Le Nôtre and La Maison du Chocolat redouble their inventive efforts to offer a Christmas dessert that will widen your eyes and thrill your taste buds.

Dalloyau and Häagen Dazs offer unexpected bûches de Noël
So, are you on the lookout this year for a Christmas dessert or Yule log that will have your family in raptures of appreciation?
For Christmas 2017 Dalloyau has come up with an enchanting dessert inspired by Slavic culture, and also offers a box of assorted macarons.
The ice cream maker Häagen Dazs has joined forces with the famous German designer Konstantin Grcic for a royal bûche that is most definitely a crowning creation.
Whatever your choice of Yuletide treats, for an exceptional stay in Paris, book your room now at the Hotel Viator, near the Gare de Lyon and Place de la Bastille. Nestled in a Haussmann-era building, our establishment boasts all the charm of a Parisian apartment, with mouldings, high ceilings and wooden floors. Whether you come alone, as a couple, with family or friends, you will be seduced by the tranquil atmosphere of the three-star Hotel Viator.
« Back to articles