The Paris Fair, a flagship event since 1904
Publish on Monday, 10 April 2017 in Events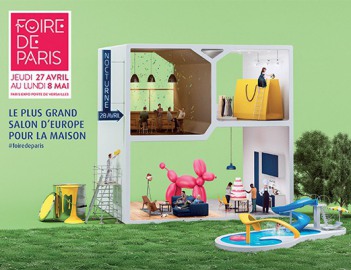 From April 27th to May 8th, 2017, the Foire de Paris (Paris Fair) will occupy some 200,000 m2 of the Porte de Versailles Exhibition Centre as this huge trade fair presents the latest innovations and developments from around the world, all designed to make everyday life more enjoyable. Priority is given to smart products and objects, and durable solutions! The Hotel Viator invites you to discover one of Europe's biggest general purpose commercial events, a spring trade show that attracts thousands of visitors and has a history of more than 110 years of innovation and discovery.
What awaits you at the Paris Fair in 2017
The Paris fair will be divided into three different sections. 'Gastronomy' focuses on wines, culinary arts from all over the world, and there's even a Food Trucks village. The 'Shopping' section is dedicated to beauty, well-being, fashion, accessories, creative leisure and arts and crafts. The 'Habitat' area of the fair is rich in innovations regarding furnishing, decoration, and natural heating. Lovers of home décor will particularly appreciate the Deco village in Pavilion 3, a space of 1700 m2 entirely devoted to the latest products and ideas for transforming your home and making your interior design cutting edge!
A place of innovation...
Two famous awards are presented at the Paris Fair. The first, the Grand Prix de l'Innovation, is a true indicator of trends, and also represents a prestigious showcase for major brands and companies. The second is an unmissable event for inventors and innovators. This is the Lépine competition, which since 1901 has seen the birth of inventions that have now become part of our everyday life, such as the washing machine, ballpoint pen, artificial heart and others. This competition also saw the launch of the heliodome, a major step forward in the field of reduced energy consumption housing.
The Fair also welcomes you in the evening
Your visit to the Foire de Paris will certainly fill your day, but this year will also include a late opening for the first time. This takes place on April 28th, from 20:00 to 22:00, and will feature an exceptional set of musical performances organised by Radio Latina. The evening will offer plenty of scope for you to relax and party!
« Back to articles