Restaurants floating on the Seine, and beaches in the heart of Paris
Publish on Sunday, 10 July 2016 in Visit Paris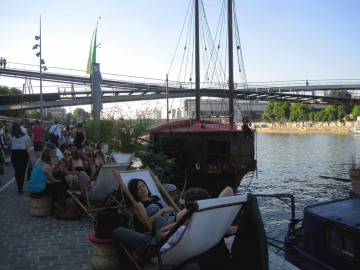 Some wonderful experiences await the visitor to the Quai François Mauriac, between the Bibliothèque Nationale de France and the Hotel Viator. As you'll find on your summer break, the atmosphere here is vibrant and full of discovery. This is the new chic and trendy Paris that has given new life to the river immortalised by poets, where you can find floating restaurants full of charm and all the fun of a beachside resort!
Where the barges are restaurants
All along the Quai François Mauriac visitors are attracted by the various restaurants that make their home along the Seine in old reconditioned barges and boats. If you fancy a delicious meal afloat upon this majestic river, then here's your opportunity. By day various styles of cuisine are on offer and you can eat while watching the bustle of activity along the river. At night, the place shows a slightly different face; more youthful and casual. At this time the restaurants are generally full, pulsing with a vibrant musical atmosphere. One prime example is the famous Batofar, which has been the leading 'nightclub on a boat' in Paris since 1999, offering great musical evenings of electro rhythms, funk and soul.
Relax on a beach right in Paris
For idyllic moments of relaxation during these gloriously warm days of summer, why not wander along to the Quai François Mauriac to discover a beach that gives Paris a taste of the Costa Brava? Here you will find a temporary beach where you can take it easy in a deckchair beneath a parasol while sipping a refreshing drink, and all by the Seine! With various stalls selling refreshments, including ice cream, you can easily imagine you're at the seaside rather than the Seine-side. DJs set the mood and turn it into a party beach. What better way to relax, whether you're in the city on vacation or on business?
© Photographe : Blogueuse Miss Coat
« Back to articles