Come and taste the king cake in Paris
Publish on Saturday, 10 December 2016 in Events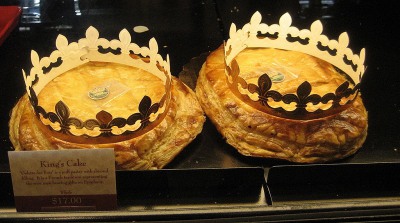 After the end-of-year celebrations, lovers of Yuletide treats still have an opportunity to rejoice during the festival of Epiphany. That's because this is the proper time to enjoy a galette des rois; a king cake. Traditionally celebrated on January 6th, this feast day commemorates the visit of the Magi to the Christ child, hence the name of the cake which has come to be associated with it. You can enjoy a galette des rois in the capital ... or at home with our recipe by Hotel Viator.
The galette, an ancient history
During your stay at the Hotel Viator, you'll see a wide variety of cakes in pastry shop windows. But this particular cake has a distinctive history. The origins of the festival of Epiphany date back to Roman times, when Saturnalia was celebrated during the first 7 days of January and Romans would offer cakes to their friends. The first Christians assimilated this festival and became accustomed to offering a pastry in remembrance of the gifts brought by the Magi, and the tradition has continued. Under the Ancien Régime, the political and social system in France prior to the Revolution, the Gâteau des Rois was so named because it was offered to the ruler at the same time as the settlement of the taxes. Today the galette has become a pure indulgence that we like to share with family and friends. Placing a bean in the king cake to bestow certain privileges and obligations upon whoever receives the slice which contains it apparently began during the Middle Ages. There are several kinds of galette des rois. In Paris, it is made up of frangipane, butter and puff pastry ... here is our recipe.
A quick and easy recipe
It takes only about an hour to make a real Paris-style galette des rois for 4. You need two batches of puff pastry, 100 grams of almond powder, 75 grams of caster sugar, 1 whole egg plus one yolk, 50 g of soft butter, a few drops of bitter almond extract and a bean. After preheating your oven to 210°c (gas mark 7), spread one of the two puff pastries over a pie plate. Prick it with a fork. For the frangipane, mix the almond powder, the sugar, the butter and the almond extract. Spread this mixture over the dough and place the bean in it. Cover with the second puff pastry, which you can score with a knife to make a pattern. Paint it with the egg yolk to help it brown. Make a few small holes in the top and bake for about 35 minutes. You can add fresh cream or vanilla extract to your frangipane. Tradition dictates that the youngest guest allocates the slices without looking at the other guests, so the recipient of the bean is totally random. Bon appétit!
« Back to articles