Sport and fun; it's Paris by bike
Publish on Sunday, 10 June 2018 in Visit Paris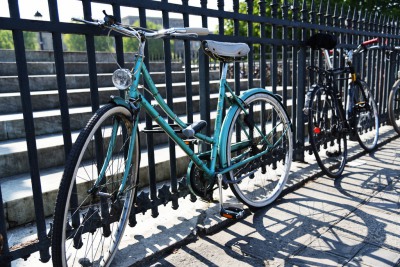 Make the most of these beautiful days during your stay at the Hotel Viator by exploring Paris in the best way possible; by bike! With your pedalling feet taking you wherever you please, you can discover the city, its picturesque streets and unique monuments, while getting plenty of exercise. And cycling enthusiasts will also want to know that the legendary Tour de France will end July 29th on the Champs-Elysees.
Paris by bike; idyllic rides
Whether you like to ride a bike on flat ground or enjoy the challenge of steep hills, you'll find your terrain of choice when you traverse the capital by pedal power. You'll be thrilled by the experience of crossing the courtyard of the Louvre Museum, then it's up the avenue to the glorious Opera Garnier before heading on - watch your calves! - to Montmartre. Or perhaps push up the hill of Ménilmontant to view its superb panoramas of the city before freewheeling down to the trendy district along the Canal Saint-Martin. Day and night, Paris is full of wonderful bike rides, and it's so perfect in summer!
Paris by bike; welcome the Tour de France
The famous Tour de France will end, as it does every year, on the most beautiful avenue in the world, the Champs-Élysées. Come support your favourite riders and cheer the inspiring sporting spirit that drives this legendary race. The date to note is July 29th, 2018!
The Hotel Viator will be your Parisian nest for your summer break. Located a few metres from the Gare de Lyon, in the picturesque and very central 12th arrondissement, the Hotel Viator offers a high standard of services amidst contemporary and refined decor. Book your spacious and bright room in the Hotel Viator in Paris today, whether you come alone, as a couple, with family or friends.
« Back to articles