The World of Disney in Paris
Publish on Tuesday, 10 January 2017 in Exhibitions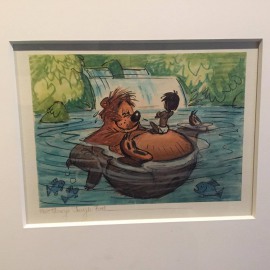 Of course, you know all about the famous theme park where you can find the renowned mouse and his friends. But did you know that the Musée d'Art Ludique is paying tribute to the world of Disney with a wonderful exhibition that runs until March 5th, 2017? For a fabulous family holiday in Paris, these two appointments should be on your itinerary. The Hotel Viator tells all...
The Art of Walt Disney Animation Studios
Located on the Quai d'Austerlitz and therefore easily accessible from your Hotel Viator, the Musée d'Art Ludique throws open a door into the wonderful world of Walt Disney. With the help of more than 350 exceptional pieces of art, you'll discover how the movie magician's films came into being. For nearly a century, Disney's designers and animators have been able to instil vitality into their designs in a unique way, drawing on their careful observations of movement in real life. With this exhibition, you will understand how this is possible, from the first drawings to the computer programs. You'll see how Mickey was animated and how the Snow Queen was brought to life. In collaboration with the Walt Disney Animation Research Library, the Musée d'Art Ludique leads the visitor through a magical world, all explained by the incredibly talented Disney creators.
Meet the Disney characters
Now you know all about how the Disney characters are brought to life on the big screen, it's time to meet them in person! Take the magic train - actually the RER A - and head for the enchanted realms of Disneyland Paris. Whether it's the heroes of Star Wars or Disney's lovely princesses, you're sure to find a friend. Search for the exit from Alice's labyrinth or plunge into the throes of Armageddon, visit the Sleeping Beauty Castle or meet Snow White and her 7 Dwarfs. There's so much to do! You can also catch some amazing shows such as Mickey and the Magician, and eat with your children's favourite characters.
« Back to articles