Discover the Winter Circus in Paris
Publish on Wednesday, 5 December 2018 in Entertainment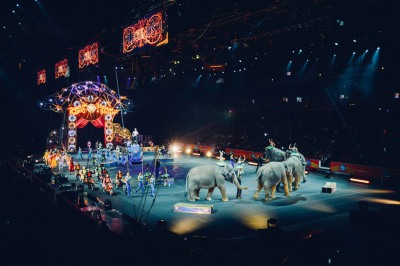 During your stay in Paris this winter, why not immerse yourself in the magic of wonderful performances at the Cirque d'Hiver (Winter Circus), in the capital's 11th arrondissement? Experience the spectacular shows presented by the famous Bouglione circus family, as well as some great musical concerts.
The circus legend that is the Bouglione family
For generations, members of the Bouglione family have been upholding the circus tradition and perfecting their talents. The dynasty's acrobats, clowns, animal trainers and magicians are among the most talented in the world, and the Bouglione reputation is well established. At the Cirque d'Hiver, you'll have the pleasure of attending their latest show, a spectacle to delight the whole family.
Great stars and special shows
This winter the Cirque d'Hiver presents two superb shows that should not be missed. The great actor Gerard Depardieu shows us a very sensitive aspect of his personality and shares his passion for the song in the live show Depardieu Sings Barbara, in which he performs the sublime repertoire of Barbara, the legendary French singer of melancholy love songs. You can also attend a concert by Matthieu Chedid, better known as M, the talented pop singer who infuses poetry into his heady songs.
Hotel Viator; three stars of happiness
Book your room at the Hotel Viator for a stay that offers both comfort and elegance. Located in the heart of the capital, in the 12th arrondissement, the Hotel Viator stands out due to its refined decor, soothingly lovely rooms and upscale service. Housed in a typically Parisian building, the Hotel Viator invites you to enjoy a chic, friendly and thoroughly Parisian experience.
******
For more information :
- Cirque d'Hiver (Winter Circus)
---
Hotel Viator, a 3 star hotel in the heart of Paris 12th arrondissement
« Back to articles