Discover the Festival of Marvels at the Museum of Fairground Arts
Publish on Monday, 5 November 2018 in Exhibitions and Museums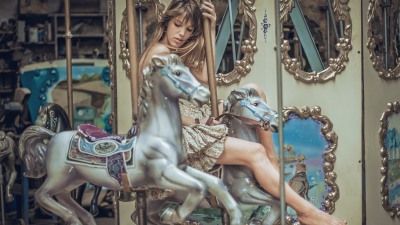 Experience a Christmas like no other! During your festive season break in Paris you can enjoy a timeless adventure at the Musée des Arts Forains (Museum of Fairground Arts). There, you will find a special end of year event awaiting you; the Festival du Merveilleux (Festival of Marvels). Amid superbly preserved rides and interactive attractions dating from the mid-19th to the mid-20th centuries, you'll discover shows that combine fun, charm and enchantment.
Musée des Arts Forains; a museum dedicated to laughter and magic
At the Pavillon de Bercy, in the heart of the old cellars, hides an extraordinary museum, a world of dreams where you'll forget the everyday as soon as you step through the entrance gates. This unusual place is the Musée des Arts Forains, a museum bursting with joy and colour, a dream world filled with one of the world's greatest collections of fairground rides, games and curiosities. Unlike a traditional museum, where you are generally not permitted to touch the objects on display, visitors here are encouraged to try the rides and play the games of yesteryear to their hearts' content. Tours with role-playing guides are available by reservation.
Festival of Marvels; enchanting rides, enchanting shows
Every year at Christmas, for nearly 10 years, the Musée des Arts Forains has been dressed up and lit up to offer visitors a unique and wonderful event, the Festival du Merveilleux. From December 26th, 2018 to January 6th, 2019, storytellers, mimes, street artists, theatre troupes and magicians will perform their delightful acts amidst these mesmerising surroundings where the rides and attractions take you into a world as fascinating and fun as it is colourful. You'll be entertained by the skills and daring of jugglers, acrobats, aerial dancers, tightrope walkers, musicians and puppeteers, accompanied by the latest digital technology in the form of sound and optical illusions. Enchantment for all ages!
******
For more information :
- Musée des Arts Forains
- Festival du Merveilleux
---
Hotel Viator, a 3 star hotel in the heart of Paris 12th arrondissement
« Back to articles