Discover Paris from the Seine with the Bateaux Mouches
Publish on Saturday, 10 June 2017 in Visit Paris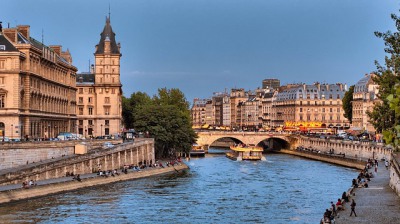 Paris can be explored and enjoyed in many ways. A cruise on the Seine will give you the opportunity to contemplate the most beautiful monuments and museums of the capital from the perspective of the iconic waterway. As the fine weather returns, the open excursion boats called Bateaux Mouches ply the river, revealing the splendour of the capital's buildings in the sunshine. By night, the spectacle of the sparkling lights of the capital is equally beautiful to behold. The Hotel Viator recommends that you include a river excursion in your Parisian itinerary.
Cruise along the Seine, the most beautiful avenue of Paris
A cruise on the Seine is essential during a stay in Paris. Les Bateaux-Mouches Paris, the most famous excursion boat company, offers one hour tours with commentary, starting from the Alma Bridge. These are in both French and English and tell the story of Paris along the Seine. You will glide serenely by the National Assembly, the Musée d'Orsay, and the Musée de France to the Ile de la Cité, Notre-Dame Cathedral, the Conciergerie... You will pass under a dozen bridges and have the opportunity to admire the most emblematic monuments of Paris.
A romantic cruise to discover Paris
You will have the choice between a simple tour with a commentary or a meal on the water, brunch or a romantic dinner during the day or in the evening while well sheltered by the boat's large windows. Often and wrongly judged kitsch and touristy, the dinner-cruise is a special experience enhanced by a romantic atmosphere, refined service and the sheer magic of dining while drifting past the monuments of Paris, which are exquisitely illuminated at night.
After an enchanting cruise, you will be welcomed back to the Hotel Viator in the heart of the 12th arrondissement to relax and reflect on all you've seen!
« Back to articles