DC Comics invades the Art Ludique Museum
Publish on Friday, 10 March 2017 in Exhibitions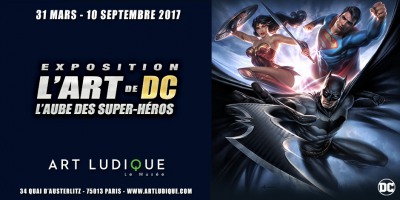 The Musée d'Art Ludique presents a world premiere from March 31st to September 10th 2017 when it hosts The Art of DC - The Dawn of the Super Heroes. This fascinating exhibition tells the story of the comics company known as DC (named after Detective Comics, the title that first featured Batman) and its emblematic characters. The Hotel Viator invites you to meet Superman, Batman, Wonder Woman, the Joker, and the other super heroes and super villains on the DC roster. They are symbols of a contemporary mythology that has influenced the world.
A place where pop culture is celebrated
The Art Ludique highlights the works of talented creators who give wing to our imaginations in a variety of media. After hosting the Pixar, Aardman and Miyazaki exhibitions and paying tribute to nearly a century of entertainment from Walt Disney Studios, the Musée d'Art Ludique is now about to launch its latest celebration of pop culture. The Art of DC features more than 250 original art pages born from the talent and imagination of great comics artists such as Bob Kane (co-creator of Batman), Jack Kirby, Neal Adams, Frank Miller, Jim Lee and Alex Ross, as well as concept drawings, paintings and sculptures created by movie studios for the big screen DC blockbusters. Situated on the banks of the Seine in the 13th arrondissement, this beautiful museum is highly recognisable thanks to its architecture inspired by the world of cartoons.
The Dawn of the Super Heroes, an exhibition to delight comics and movie fans
For 6 months the museum will unroll the red carpet for Superman and Batman as well as a host of other characters. Nostalgia lovers will be thrilled to see the costume worn by Christopher Reeve when the late actor played Superman and the one donned by the unforgettable Lynda Carter in her role as Wonder Woman. Learn the secrets of the legendary DC and get up close to the costumes, scenery and symbols of the company's world-famous super heroes. You'll discover a host of artefacts from the feature films directed by Zack Snyder, Joel Schumacher, Tim Burton and Christopher Nolan.
« Back to articles