Contemporary art in October in Paris with Art Elysees and FIAC.
Publish on Wednesday, 11 October 2017 in Fairs and Trade Shows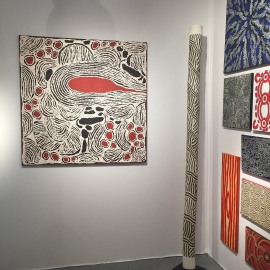 An artistic wave inundates the capital in October, sweeping in on its crest an opportunity for thousands of visitors to discover art in all its many and varied forms. The Art Elysées-Art and Design exhibition and the International Contemporary Art Fair offer fascinating and enriching experiences during your stay at the Hotel Viator.
Art Elysées - Art and Design

This popular art fair event takes place on the Champs Elysées from October 19th to 23rd, 2017. Nearly 120 galleries gather in temporary pavilions where a wide selection of art and designer furniture is presented. This tenth edition will, as usual, add to the artistic effervescence of the capital, bringing together key figures in the art world.
For the event, French and foreign galleries select artists emblematic of the art that characterised the 20th century, to create a dialogue between modern and contemporary art and 20th century design. In particular, this year will showcase an interaction between the movements of the history of modern art and the Ecole de Paris.
The FIAC - an abundance of art

Presenting an artistic panorama, the FIAC takes place in Paris from October 19th to 22nd, 2017. The venue for this 44th edition of the prestigious art show will be the Grand Palais, a landmark monument and the most important venue for Parisian exhibitions. Nearly 170 galleries from 25 countries are scheduled to attend. These will feature internationally famed or lesser-known artists.
For the second year, the FIAC will also present various works in the Avenue Winston Churchill and the Petit Palais. In addition, as happens every year, locations such as the Jardin des Tuileries and the Place Vendôme will welcome the Beyond the Walls segment of the event. Conferences and film screenings by artists are also on the agenda. For an original way of getting around, river shuttles provide connections between the various FIAC locations.
Photo credit : mlbardy_
« Back to articles