Christmas in Paris
Publish on Thursday, 10 November 2016 in Shopping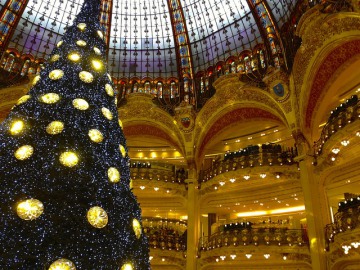 December is just about here and with it comes the holiday season. If you are staying at Hotel Viator in the capital at Christmas, you'll discover a City of Light that spares no effort in making the festive period extra-special.
Browse Christmas markets
Throughout the capital in the run-up to the Yuletide celebrations you'll find a host of traditional Christmas markets offering original gifts made by artisans, sparkling decorations and, of course, gastronomic treats for those who love fine food. You can tour the markets of Paris from the Alsatian market at the Gare de l'Est to that at the Gare Montparnasse, where you can find great gift ideas among the Made in France items. On the Champs-Élysées or on the esplanade at La Défense, you'll discover Christmas villages of illuminated wooden chalets creating a magical atmosphere. And if you enjoy the magic of lights, Paris will spoil you. The shop windows and streets of the capital are adorned with thousands of colours to transport you into another world.
Paris transports you to a magical world
For proof, just check out the windows of the world-famous department stores - Galeries Lafayette, Printemps and Bon Marché – where you'll be taken to the heart of the enchanted forest and see elves and snowmen prepare for the festivities. You can also meet Santa in his workshop. And the unique atmosphere will accompany you on the go as many streets are festooned with lights. The Champs-Élysées, Montmartre, the Place Vendome and Faubourg Saint-Honoré cast spells of stellar enchantment. And during your walk, when you encounter a church - or cathedral – don't forget to enter and be enthralled by the Nativity scenes. The best can be found in the Madeleine Church, the Sacré-Cœur Basilica and Notre Dame Cathedral. All these sites are easily accessible from your Hotel Viator, thanks to the numerous Metro stations, and nearby RER and bus services.
***
Photo Credit : Bob Hall via Flickr
« Back to articles