Bercy Village: shopping and leisure galore
Publish on Monday, 5 March 2018 in Visit Paris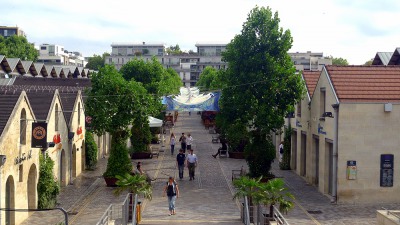 Developed from an old wine warehouse district, Bercy Village is now a prestigious shopping centre located in the heart of Paris, in the warmly welcoming 12th arrondissement. Trendy and affordable, while still having a French village atmosphere, the area also offers concerts and exhibitions. You'll certainly succumb to the unique charm of Bercy Village, just a few minutes away from the Hotel Viator!
Bercy Village, a unique shopping centre
Inaugurated in 2001, the Bercy Village shopping centre offers a unique shopping and discovery experience. Located in the historic Cour Saint-Émilion, it is picturesque and full of charm. From the early 19th century until the mid-20th, Bercy Village was the site of the world's largest wine market and a railway station where wine would arrive from French vineyards. The wine storehouses are now a listed historic monument.
Bercy Village, your favourite shops
Thirty or so stores can be found in one location in Bercy Village, and these include major ready-to-wear brands, home appliance stores, cosmetics and well-being brands and more. There is also a cinema and a number of restaurants. You can easily spend an entire day, as there's so much to do by way of shopping, leisure activities and entertainment!
The Hotel Viator, your accommodation of choice in Paris
Located near Bercy Village, the Hotel Viator welcomes you in an elegant and contemporary setting. Its three stars are a guarantee of optimal comfort, while you'll be seduced by the typically Parisian charm of the decor. The rooms have everything you need for a perfect stay, including air conditioning, wi-fi, flat screen TV, a safe ... Ideally located in the centre of Paris, not far from the Place de la Bastille, the banks of the Seine and Bercy Village, our hotel welcomes you for your Parisian stay. Book your room now!
« Back to articles